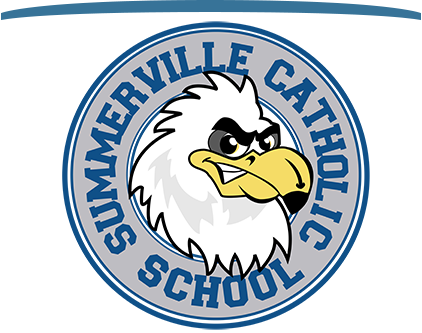 Where Faith and Knowledge Meet
Pledge/Recurring Donations
Preparing our students for tomorrow
Technology is more than your smartphone, TV or laptop and it affects more than how you live, work and play. Technology is now more than ever transforming how our students learn.

Implementing the latest relevant technology is a difficult task for all schools. The Diocese of Charleston published their Diocese of Charleston Technology Plan outlining the need for Catholic schools to implement and update the technology tools they use in their classrooms.

Here at Summerville Catholic School, we believe that we are not merely educating our students, we are preparing our students for tomorrow. Armed with the Diocese of Charleston Technology plan, we set out to update our school. So far we have accomplished the following:
2016-2017 school year: Purchased first classroom set of Chromebooks to establish the first Google Classroom learning environment.

2017-2018 school year: Purchased $12,000 worth of Chromebooks to expand the Google Classroom learning environment.

2018-2019 school year: Purchased an additional $10,000 worth of Chromebooks to expand the Google Classroom learning environment further. Each classroom (grades K3-8th) has 4 Chromebooks for workstations. Upgraded cabling and wireless access points to ensure that all Chromebooks, especially when we go to 1:1, could be served adequately by our network.
2019-2020 school year: We plan to upgrade our 12-year-old Promethean boards to the latest model as well as implement a 1:1 Chromebook ratio for grades 4th - 8th and a 2:1 Chromebook ratio grades K3 – 3rd.
To make the 2019-2020 technology upgrades a reality, we need your support. We need to raise $18,000 a year to support the 5-year lease payment of the Promethean boards.