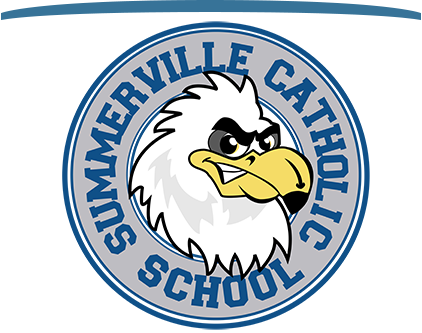 Where Faith and Knowledge Meet
Media Center
Summerville Catholic School
Media Center
Read, Discover, and Explore
Media Center Visits
K3 will be visited in their classroom once a week
K4 - 4th grades will come to the media center once a week
5th - 8th grades will come to the media center bi-weekly
Students in K5-8th are encouraged to visit individually during open media center time.
---
Look for books with our online library catalog
---
Find thousands of magazines, newspapers, and reference books available online
---
Circulation Policies: K3-1st grade can get 1 book for 1 week (K3 will start checking out books in January). 2nd through 8th grade can get 2 books for 2 weeks. If a book is overdue, students may not be able to check out another book until the overdue book is returned. Students are responsible for lost or damaged books (either a replacement cost or a book donation - see below for Donation Policy).
Programs: The media center supports the South Carolina Picture, Children's and Junio Book Award program, Accelerated Reader and various special activities throughout the year.
Donation Policy: Donations of new or used books are always welcome! Donated books will be added to the media center collection based on the need, age, and condition of the book. If you are interested in donating books, here are some guidelines for what we are looking for:
copyright year no older than 10 years
no ripped, torn, or missing pages/cover
no extensive marks or previous water damage